Food safety regulations are essential for protecting consumers and are applicable to any edible product including cannabis edibles, CBD tinctures, and more. Let's take a look at the current State of Florida cannabis regulations and how food safety guidelines apply in this industry.
Medical Cannabis Products Have Been Legal in Florida Since 2016
In 2016, the people of Florida voted to allow legal marijuana for a select number of health conditions, like MS (Multiple Sclerosis), PTSD, epilepsy, and a few others. Those who meet these requirements may get a medical marijuana card if cannabis is prescribed by a doctor, and they can purchase cannabis products from MMTCs (Medical Marijuana Treatment Centers).
CBD is also allowed in Florida, as it is in all other US states, but recreational marijuana use is not legal, despite recent pushes for legalization. Possession of cannabis without a medical card is fully punishable by law.
More People Than Ever are Picking Edibles as Their Medicine of Choice
As medical marijuana has grown in popularity, so has the prevalence of marijuana edibles like gummies, brownies, cookies, and other foods as a delivery method for cannabis. Smoking cannabis, which has been the prevalent method of use for decades, is irritating to the throat and lungs, and it could even be carcinogenic and contribute to lung cancer, similarly to cigarettes.
Edibles are an easier, simpler, and less messy way to get a prescribed amount of cannabis into the system, which is why they've surged in popularity in the last decade. Edibles represented 20% of sales at dispensaries right before the pandemic began in 2020. That's  huge growth when compared to recent years.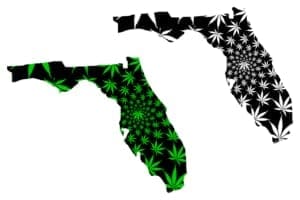 Edible Producers Need to Meet Food Safety Regulations
Food safety regulations are of utmost importance in any industry creating any type of food – and this includes producers of cannabis-infused edibles. These products may be medicinal in nature, but are still classified as food products, and should be produced and created under frameworks from regulatory authorities like the Food and Drug Administration (FDA).
Standards like GMPs, proper line sanitation, allergen controls, supply chain controls, quality testing, and other methods of testing food safety must be used by any company producing edibles for sale in Florida.
Not only does this prevent potential liability issues and ensure product safety, but it also helps build trust in cannabis products, which is essential as more states begin to legalize both medicinal and recreational marijuana. By following the same standards as other food producers, cannabis companies can develop a better reputation, and encourage the adoption of less restrictive cannabis laws elsewhere in the country.
Need Food Safety Training in Florida? ImEPIK is Here to Help!
At ImEPIK, we're experts in 100% online, interactive food safety training. We use well-established frameworks and best practices for food safety and regulation, ensuring that you and your team will learn all you need to know about food quality and safety at the new worker up to the supervisory level.
With our Cannabis Edibles Safety Course©, you and your team can develop the insight, knowledge, and depth of technical skill necessary to make high-quality cannabis edibles that have documented food safety plans. Learn today about Level I of the course, which is for technicians and specialists, and Level II which is for managers and supervisors.
Contact us today if you produce cannabis edibles in Florida – we can help you meet quality and food safety requirements. Reach out online or give us a call at (866) 318-9855 to learn more and get started right away.