Makers of cannabis edibles sold in Oregon can double the potency of their products, with new rules designed to align the THC limits in edibles with those in most other states with adult-use cannabis sales.
As of April 1, edibles in Oregon can now have up to 100 milligrams of THC per package and 10 milligrams per serving. That's double the previous limits, according to the Oregon Liquor and  Cannabis Commission, the state agency that regulates adult-use cannabis.
This blog from ImEPIK will look at the edibles markets and laws in Oregon, one of the first states to legalize cannabis for medical patients (1998) and then adult-use (July 2015).
Edibles See Record Sales in Oregon
According to the commission's most recent report, Oregon's edibles/tinctures category hit its highest monthly sales in April, at $12.21 million. From October 2016 to April 2022, total edible/tincture sales were almost $480 million, or 10.4% of all cannabis sales in Oregon. Usable marijuana, defined as the dried leaves and flowers of the female cannabis plant, led the sales during that five-and-a-half-year period at about $2.6 billion, or about 56% of overall sales. Concentrates/extracts had the second-highest sales, at $1.19 billion, a 26% share of Oregon's cannabis sales.
Oregon's Food Safety Rules for Cannabis Edibles
Although adult-use cannabis sales in Oregon started in 2015, it wasn't until June 2016 that edibles were legal for adult use. However, medical dispensaries could sell edibles before then. The Oregon Liquor and Cannabis Commission oversees the adult-use program, and the Oregon Medical Marijuana Program falls under the purview of the Oregon Health Authority. The Oregon Department of Agriculture regulates the production, processing, and distribution of all foods, including cannabis edibles.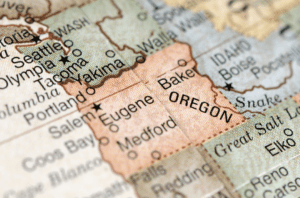 Marijuana- and hemp-infused foods must be manufactured using the same standards as for traditional foods made in the state, according to the Oregon Department of Agriculture. In addition, ingredient manufacturers, food manufacturers, and retailers must have food safety licenses and follow specific packaging and labeling rules. The Oregon Department of Agriculture can provide on-site consultations, review site plans, and issue a food safety license.
A food safety license checklist is also available online for food manufacturers and retailers. Home kitchens are not allowed to make edibles.
Changing Cannabis Regulations
This spring, the Oregon Health Authority, which sets the lab testing rules for cannabis for medical and adult-use markets, changed testing regulations for cannabis. On March 31, the new rules cover "a marijuana item or industrial hemp-derived vapor item," which will be tested for:
Mycotoxins, if harvested or manufactured on or after July 1;
Heavy metals, if harvested or manufactured on or after March 1, 2023; and
Microbial contaminants, if harvested or manufactured on or after March 1, 2023.
Testing of cannabinoid (CBD) products has also changed as unbaked edible samples can now be sampled before baking. The sampler chooses an unbaked sample and remains on-site while the batch is baked. Edibles must be produced using a standard operating procedure, and finished products must be uniform in potency, texture, and weight.
Along with the higher potency allowances, solid edibles exceeding 55 milligrams of THC in a package must be scored so consumers can determine portion size.
According to a news release, the Oregon Liquor & Cannabis Commission approved 30 products containing 100 milligrams of THC at the end of March, including chocolate bars, cookies, cereal bars, and gummies.
Starting July 1, hemp edibles at grocery and convenience stores in Oregon can exceed the federal limit of THC of 0.03%, with a new limit of up to 2 milligrams.
ImEPIK Helps Edibles Producers Meet Food Safety Demands
There are 18 states that allow medical and adult-use cannabis, and about twice that number have medical marijuana programs. More states are studying the pros and cons of legalizing marijuana, which is illegal at the federal level—for now. Attempts to pass federal legislation continue, and polls put public acceptance of marijuana legalization at around two-thirds of Americans.
The edibles market continues to expand as more states legalize cannabis. In addition, consumers new to using cannabis often feel more comfortable with edibles because they can control how many milligrams they're ingesting.
As more opportunities become available in edibles manufacturing, food safety personnel will become even more critical to a company's success. This is why ImEPIK has created a series of food safety courses specifically for edibles manufacturers.
Contact ImEPIK today to learn more about the process and benefits to makers of cannabis edibles.